Overview
Have you ever wondered how your prospects navigate through your demos? Or what's the most common user experience with our product? For example, which areas of our demo generate the most interest, and which are causing users to drop off? Luckily, Funnel Analysis offers a visual flow of how demo visitors click through your demos by tracking the steps before and after they arrive at a particular screen. It combines all your demo interactions in one place, across visitors and sessions. This will help you quickly understand your demos' flows and engagement discover which areas of the demo are working well and which require further attention. So, let's explore how to use it!
Instructions
| | |
| --- | --- |
| Once signed into Walnut, click on Insights in the left side navigation bar. |  Then locate the demo of interest:  |
| | |
| Within the select demo, toggle over to screens funnel. | From there you can choose any screen to review.  |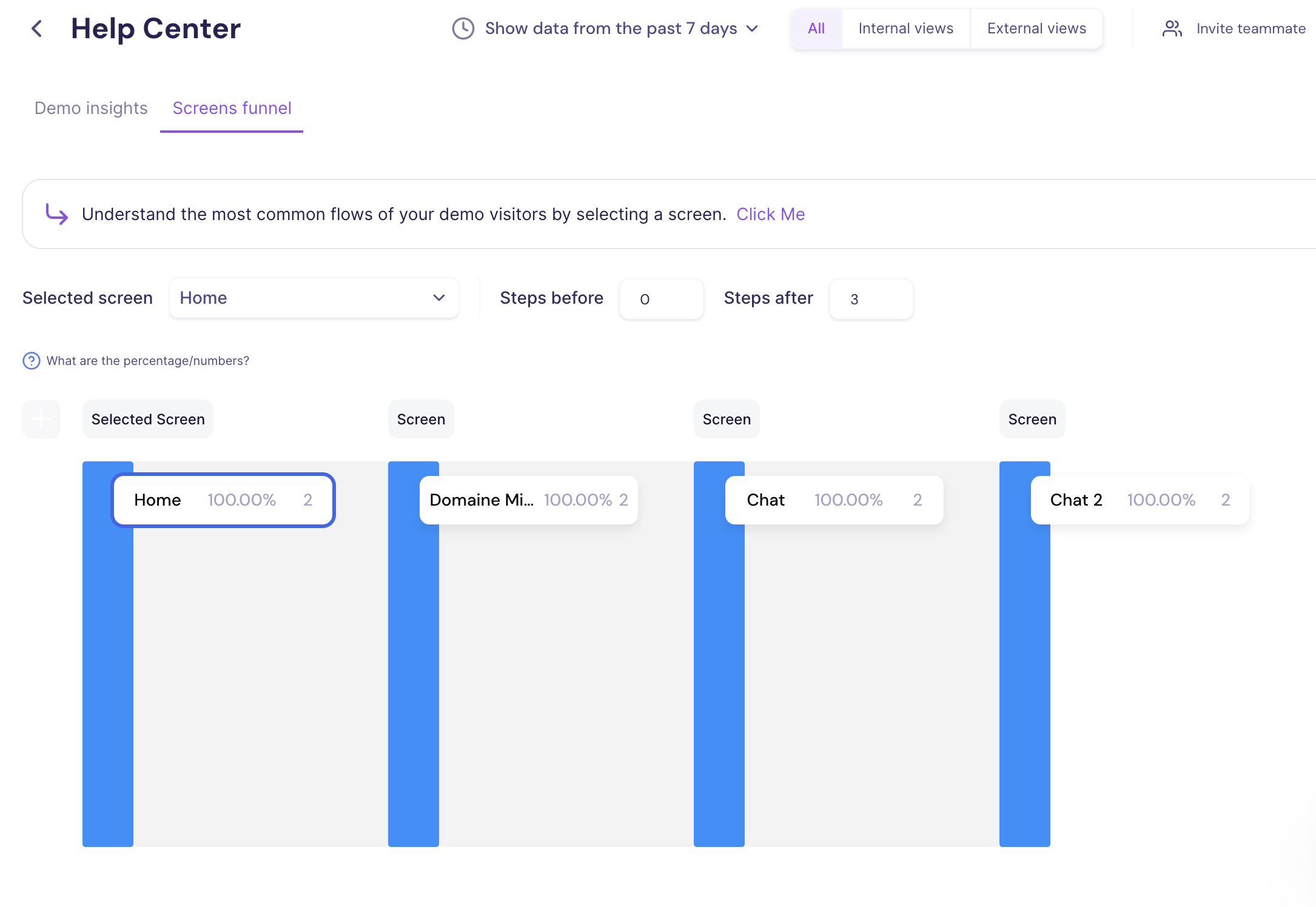 Determine the number of screens to include in your flow analysis. This will help you understand the full journey visitors took to and from this screen. By default, you will see the next three screens the user saw after the screen you've selected.


Select the relevant time frame you wish to analyze and make sure you are viewing the data of the correct user types, either internal or external viewers.

Once you build your first report, you'll be able to view the main ways your visitors are moving through your demo in the sankey diagram. The sankey diagram height is proportional to the number of users who visited a specific screen. The height of the lines that connect bars are proportional to the number of users who visited the two screens sequentially.
When viewing the diagram, there are a few important notes to keep in mind:

All the screens are organized in descending order. This means the most visited screen will appear at the top of the Sankey Diagram.
Each node contains the number of visits to the specific screen and the percentage of visitors who moved from the previous screen.
Hovering on each node will allow you to view the relevant screen.
Hovering on the connection of two bars will show you the conversion from the previous screen to the following screen.
FAQs
How often does my demo data update?
Instantly!
Why can't I see funnel data?
Check if you shared the demo with others to let them interact with it. Once that happens, the data will start flowing.