Our integration with Salesforce allows you to integrate engagement data directly into your workflow. This will make it super easy and practical to enrich your sales process with these key insights and allow Account Executives to follow up with extremely precise info about their prospects' intent. This will also help your team better manage their deals and stay on top of their opportunities by giving you all the demo-related information in one place. 
Integrating Salesforce
Enter the

tab in Walnut and press Learn more next to Salesforce.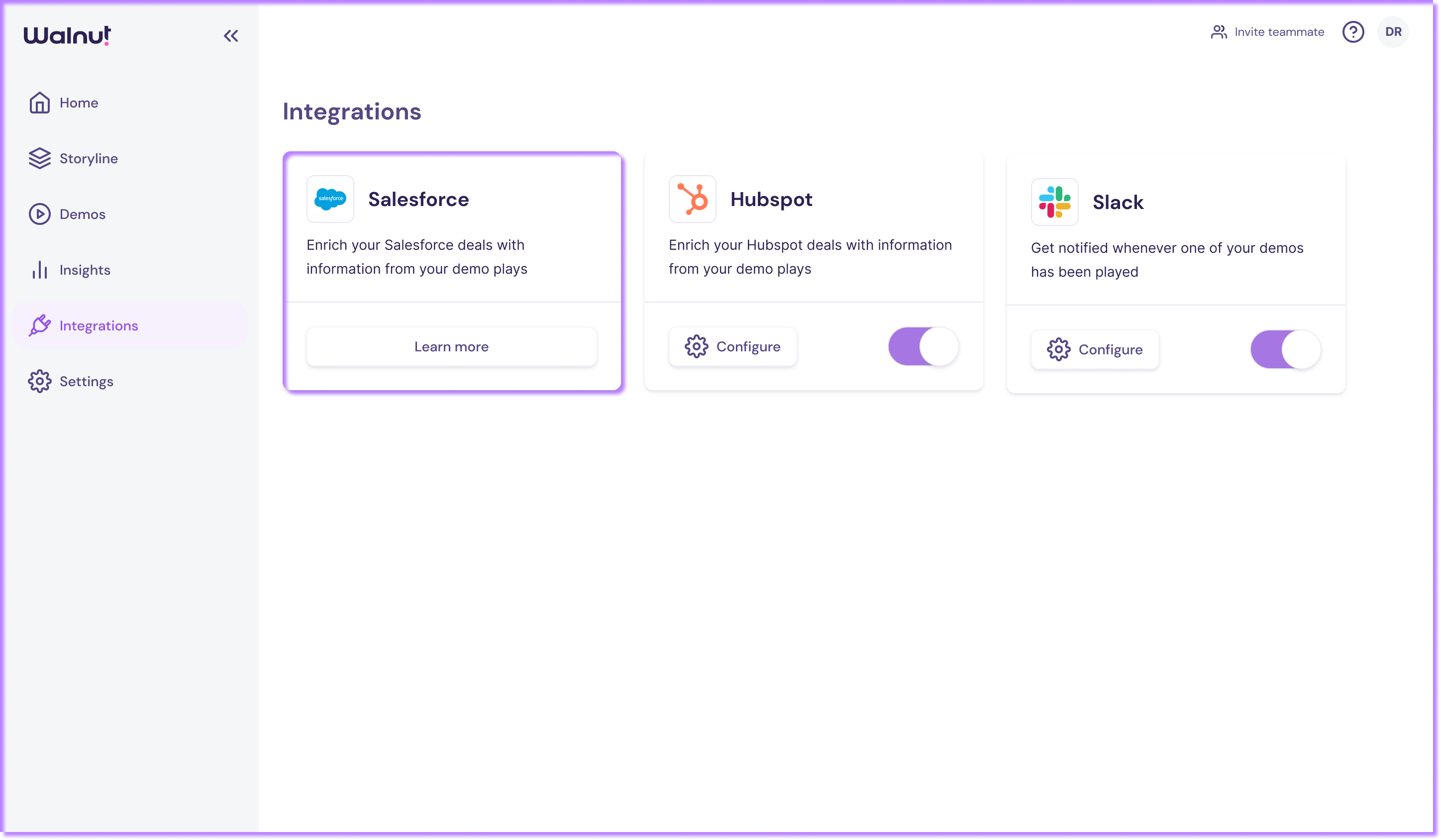 Hit connect to start the integration set up.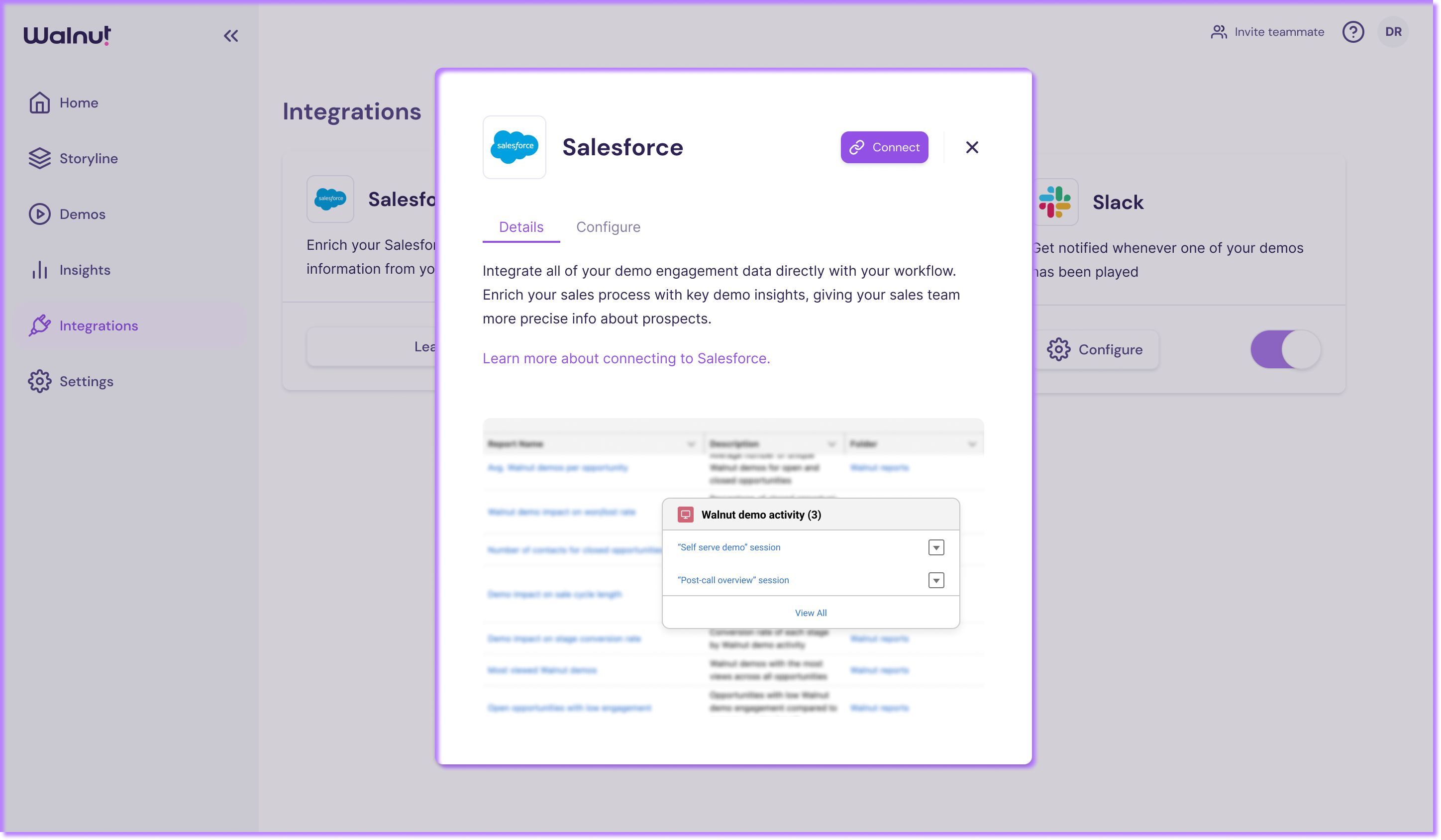 Start by Creating a new authentication. You can authenticate a sandbox or production environment. However note that the Sandbox environment can only be used if your company has access to it. Walnut does not provide a sandbox environment.
The name chosen for your authentication will not be shown externally. Hit finish to continue the process.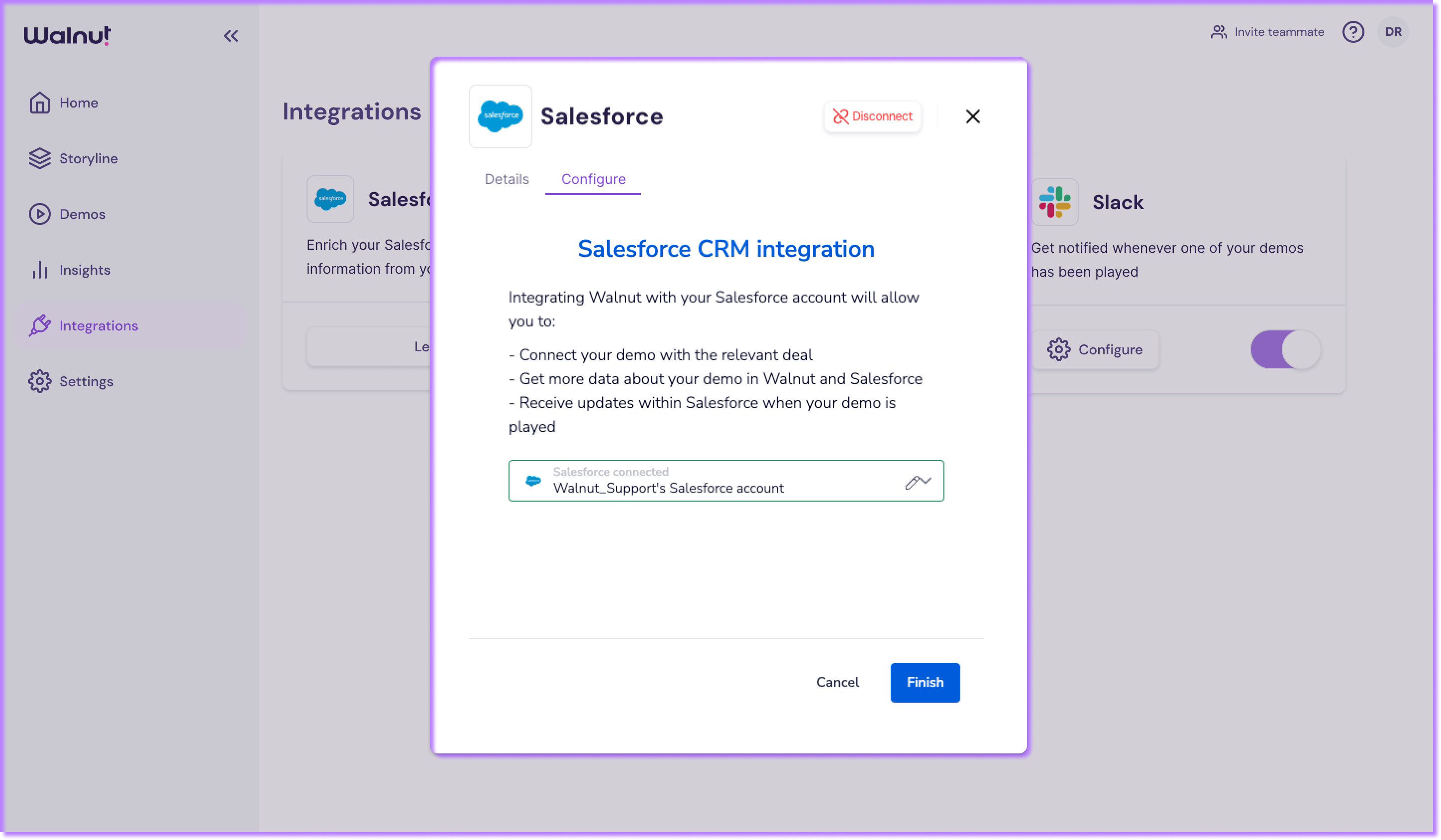 Next, approve the requested permissions and the integration will be successfully set up on Walnut's side. 
You can disable the integration at any time by using the toggle button within Walnut.

Again, once you've enabled the integration, it will be available for all Walnut users in your organization! Any user that can create a demo will be able to connect it to a specific opportunity in Salesforce.
Important To Note 📝
Key benefits

of integrating Walnut and Salesforce include:

Viewing demos and engagement data per opportunity to get a fuller picture of your deal progress.

Matching Walnut demos to your customer lifecycles, and direct sellers when to use each demo.

Locating demo in your Walnut Demo Library by using your CRM data.


The opportunities you'll be able to see are depending on the Salesforce user that will be used for the authentication. Any opportunity available for this user will also become available for you in Walnut.
Creating new opportunities, contacts, or accounts is done exclusively from Salesforce. 

To track Walnut demo's engagement in Salesforce, we are processing the following data:

Opportunity ID, Opportunity name, Opportunity stage, Deal owner, Account name, Inserted at, Updated at
Walnut uses a 3rd-party to enable the integration with Salesforce. Walnut may change and add new tools in the future. Contact support@walnut.io for more information.