Guides are used give your demo viewer direction throughout the areas of your product you are highlighting in your demo. This allows a clear path from A to Z, where the demo viewer can follow along easily, and not veer off course to a different portion of your product. Adding Guides is ideal if you're planning to create a Guided Demo of course, but guided demos are specifically useful for  website embeds for lead generation or product marketing, like showcasing product updates, or new product features.
Where to begin 
After capturing your product's screens open your template in Walnut. From there, 
Navigate to the screen within the template that you'd like to begin adding guides. From the left hand corner click on the Guides button. You will then see an option to Add a new folder. Click on the folder icon to create a section for your first set of guides.

Once your section is created, click add a step and select the element within the screen you'd like to add the guide to. Click done to save. 

The newly created guide will always generate as a tooltip. You can change this at any time by selecting the word bubble within the menu.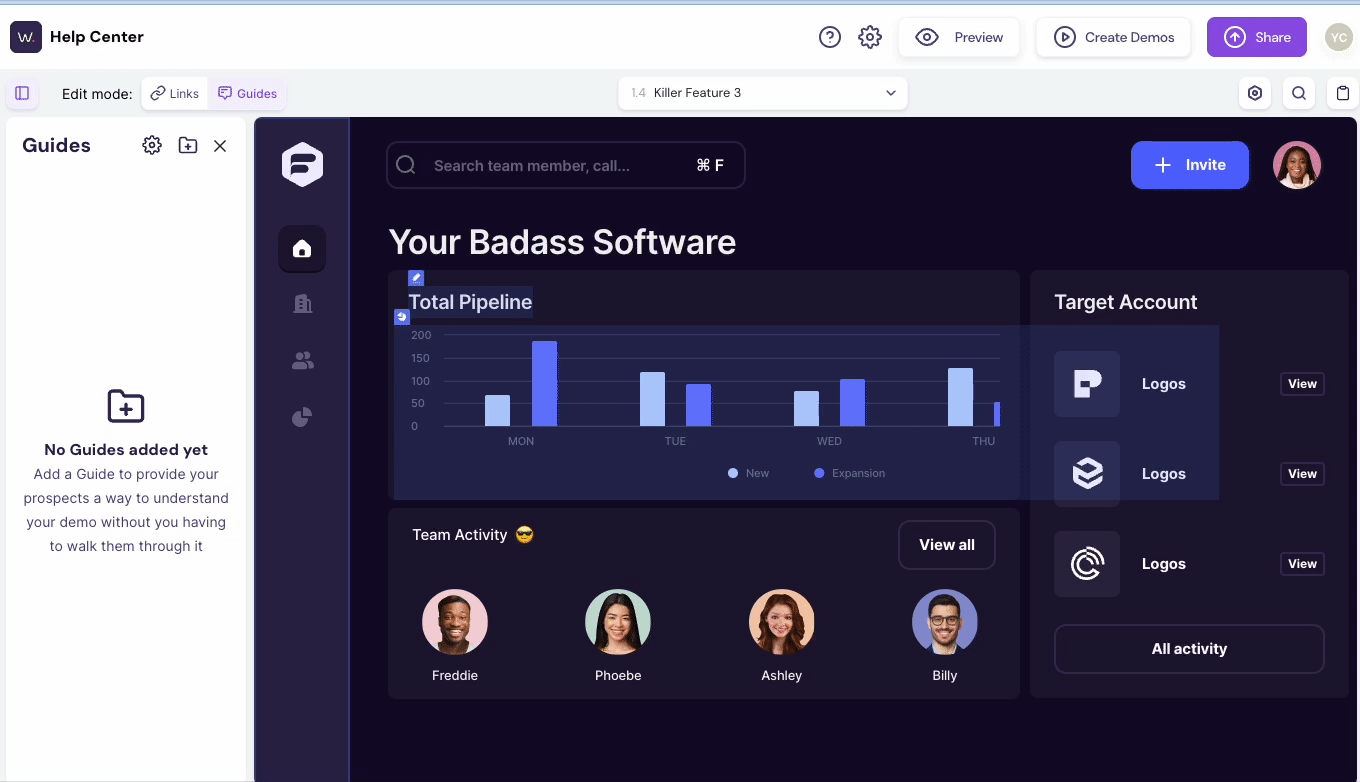 There are two additional ways to add a new guide.
Alternative methods include:
Directly from the menu bar there of the selected element.

Click on the  +

button and a guide will automatically generate on the selected element.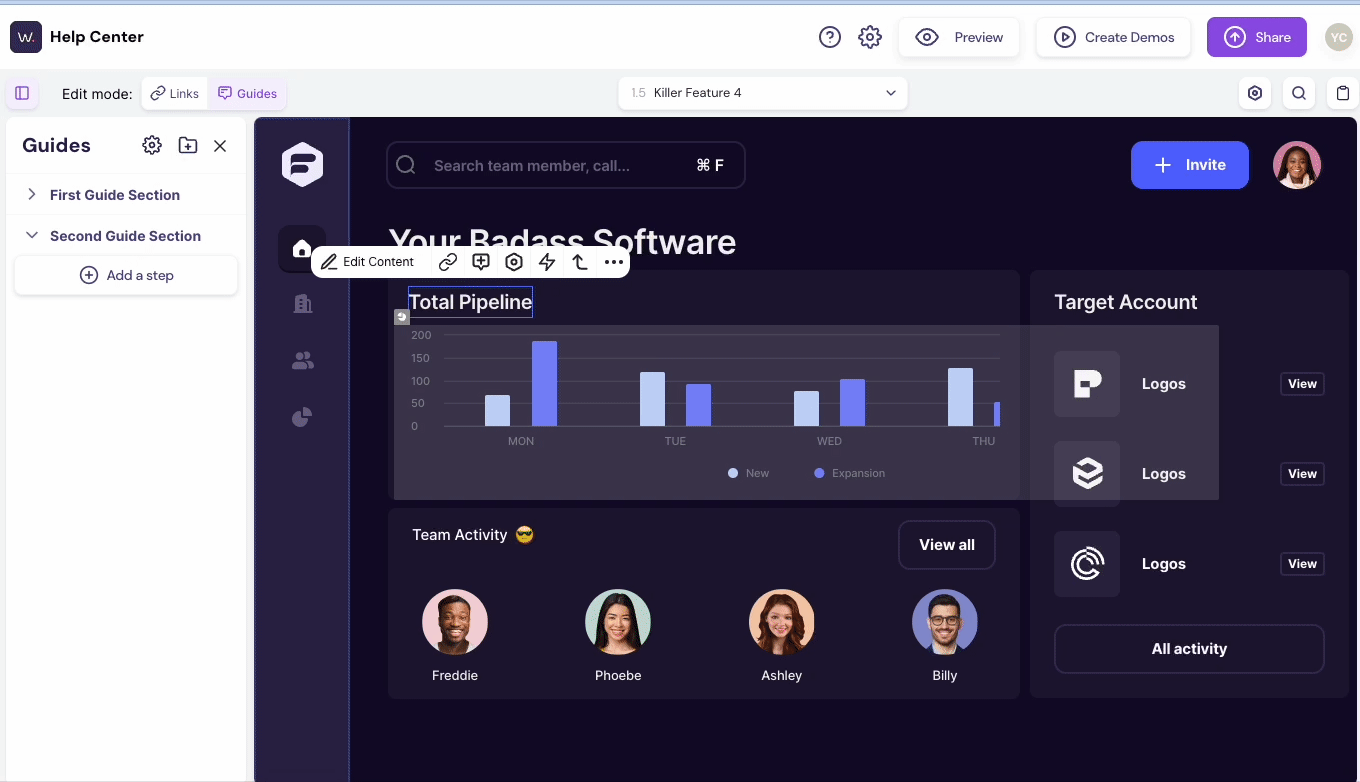 In between two existing guides.

Hover in between two guides and a bar will appear with a + sign.

Click the bar and a new guide will generate between the two guides.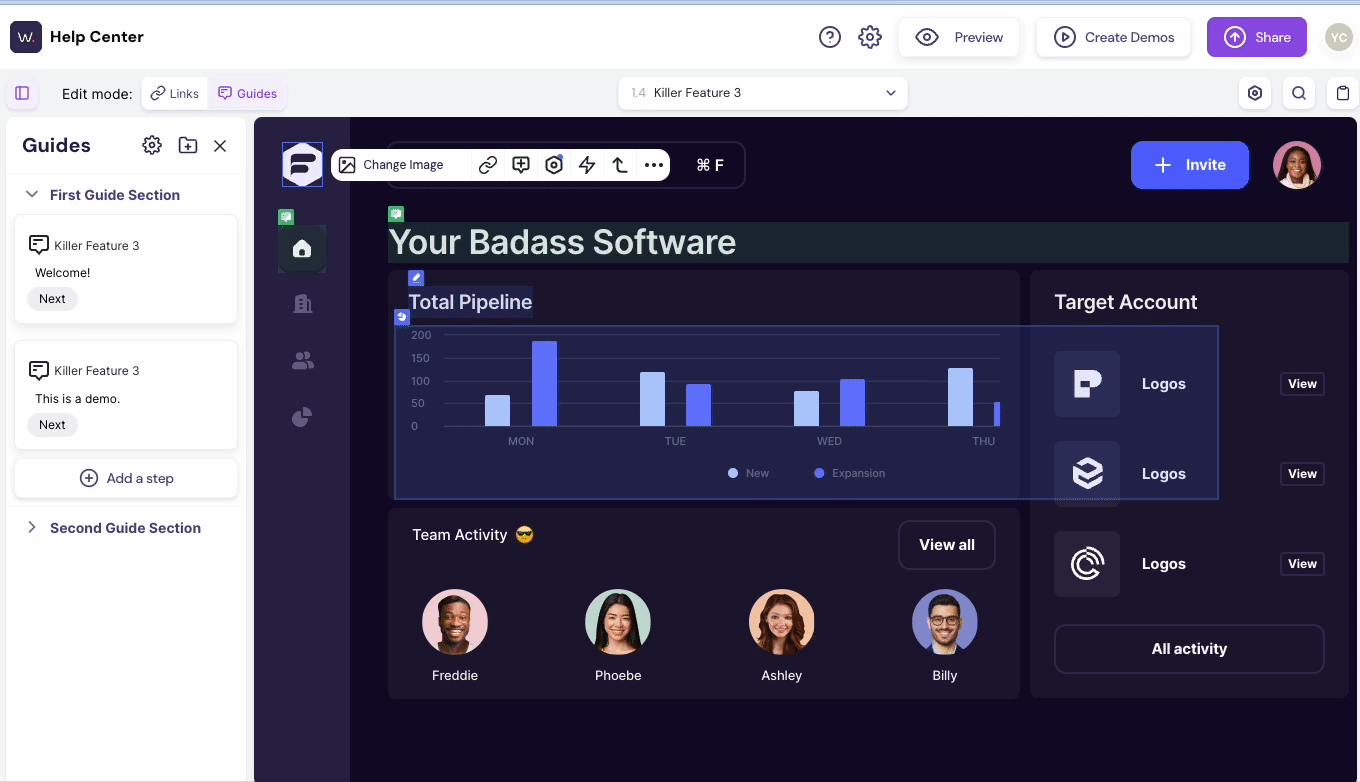 Learn more about different types of guides here.
For a more hands-on walkthrough, we (obviously) have an interactive demo for you!
FAQ
Can I have multiple guides on one screen?
Yes, you can! If you want to showcase multiple elements or sections all one one screen, simply be aware of the order in which you want them to appear. Whatever is first in the guide side bar menu will appear first, and then everything underneath it will determine the order of the guides sequentially. It is not possible to show multiple guides on screen at once, however you can customize your next guide steps to allow for adding a button to a specific guide flow.
How can I change the order of my guides?
You can change the order of your guides by hovering over one of the guides in your guide side menu on the left, and then dragging it to it's intended position. It is important to just hover to preview the guide, and then click and hold to drag, without clicking down on the guide. Clicking once will open up the editing panel to change the text, position, or settings of the guide, whereas simply clicking and dragging in a single motion will allow you to reorder the guides.
You can also create a new guide in between two guides, by hovering between the two. A line with a plus icon should appear and once you click, you will have the option to create a new guide on the screen by selecting an element, and creating your new guide.