Overview
Start saving time on your template creation by reusing your product screens. Instead of capturing new product screens for each template, now you can easily pull screens that you've already captured and reuse them. This will alleviate the need to re-edit screens that you've already customized and save you tons of time. It will also help your team with consistent edits and customizations.
Instructions
In general, you can add a new screen to your template in two ways:
Capturing a new one using our Walnut extension

Import a screen or more from another existing template

To add an existing screen to your template, click on "Import Screen" on the top right of your template and select the template you want to import screens from.
Once you choose the relevant template, you can choose which screens to import.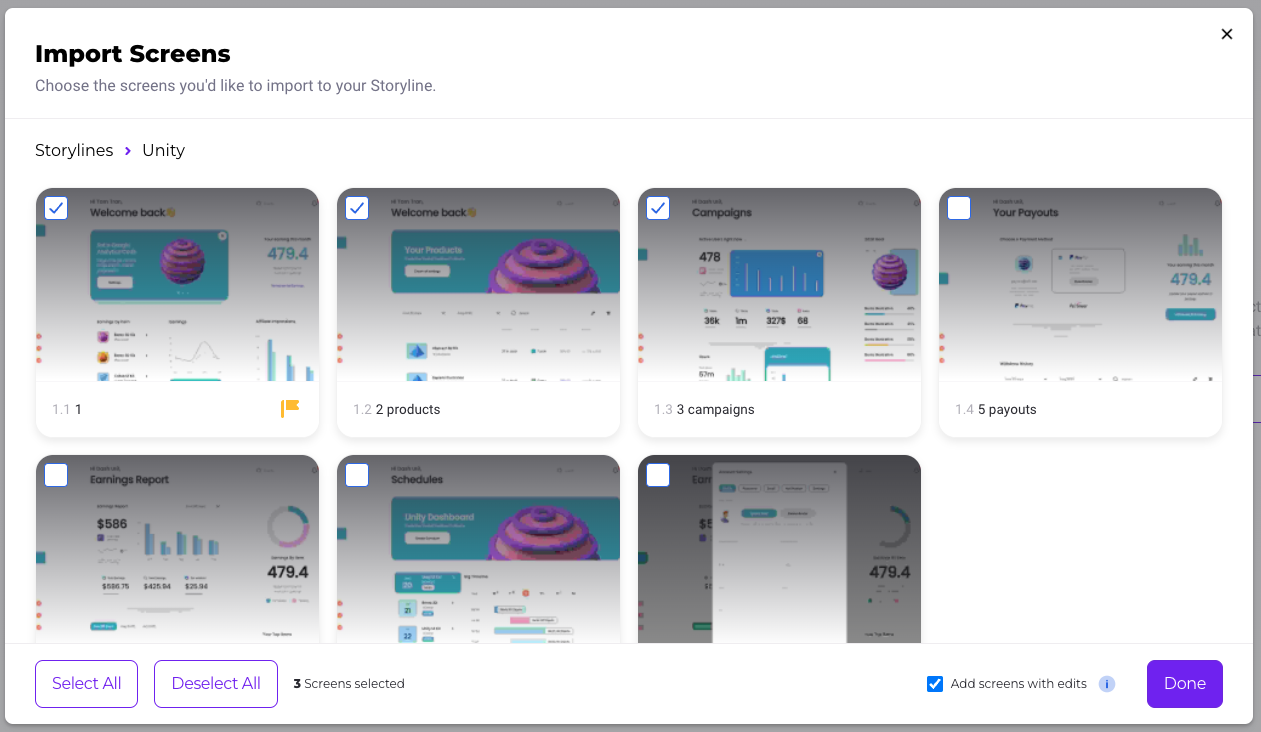 FAQs
Can I import screens that I already edited?
As the default, all the edits you made on the imported screen - including text changes, images, variables and smart objects - will be imported, too.
To cancel it, just uncheck the default box before importing.

Which types of edits will be included when I import screens?
When importing a screen, Walnut will automatically imports all the edits done on the screen, including:
Any text edit and styles

Images

Links

Variables

Smart objects
Remember that you can cancel this functionality by unchecking the default box before importing.
Do I have any limitation on screens importing?
No, you can import as many screens as you want, and from any template in your company that you have access to.
Where can I find all the screens I imported?
Once imported, you'll immediately see your screens added to the bottom of your template, ready to be edited and connected to other screens by you.
Walnut tip: Always name your screen in a way that gives a clue as to what's included in it before moving it from one template to another.