Save time on your template creation by importing product screens already in use from other templates. Using screens that you've already captured will help your team keep template edits consistent.
Importing Screens
Click into the template you'd like to import screens into. Before heading into the editor, you will land on the template overview. In the top right corner of that page, click Import Screens.

The import screens pop up will appear. Select the template in your library that you you'd like to import screens from. 
Once you've selected the relevant template, you can choose which screens specifically you'd like to import. With the screens selected, you can determine if you'd like them imported with our without the existing guides and edits.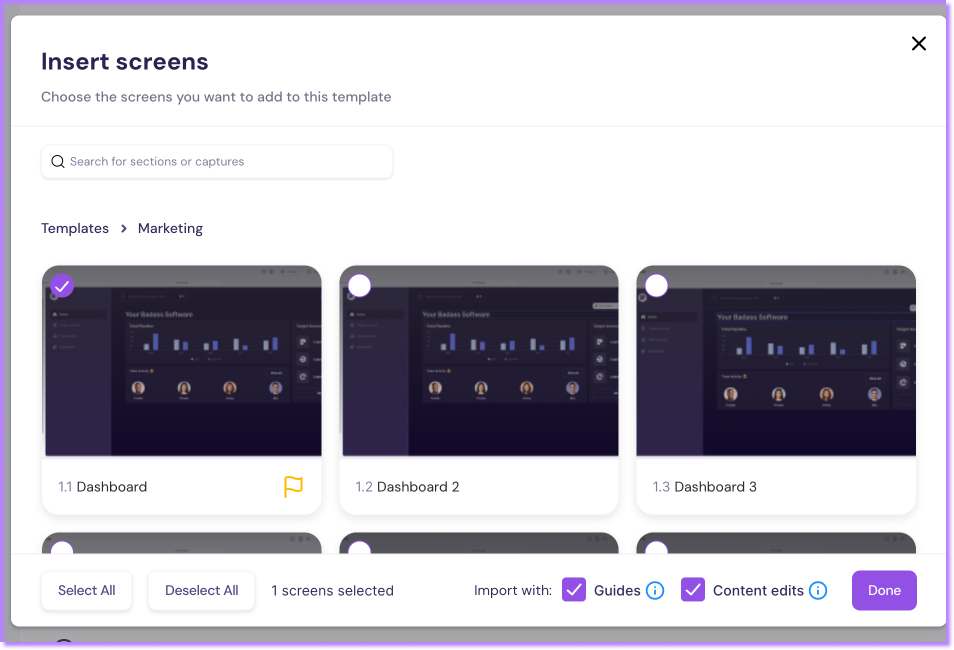 Important to Note 📝
By default, all edits made on the imported screen - including text changes, images, variables and smart objects - will be imported. To cancel this, uncheck the import with boxes before importing.

There are no limitations on the number of screens you can import. You can also import screens from different templates.
Once imported, you'll immediately see your screens added to the bottom of your template, ready to be edited and connected to other screens by you.
Walnut tip: Always name your screen in a way that gives a clue as to what's included in it before moving it from one template to another.